Shipping
This is base on UPS Business days in transit from: DALLAS, TX 75287. Time frame with order carriers will be different. Please contact for details of needed.
Most orders ship within 3 business day. Large orders or those placed during times of high volume may require extra time. We are no longer guarantee delivery times frame. The information here is provided as a guideline and estimate. Please plan ahead and order in advance in order to get the order in time. Thanks for your cooperation!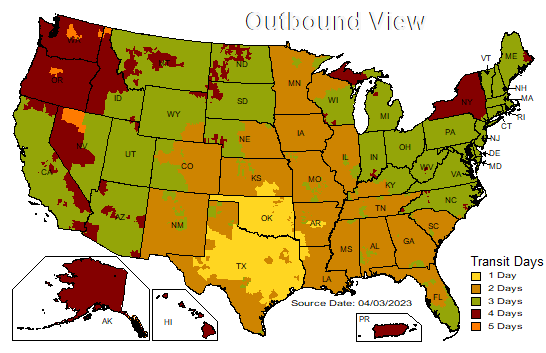 US Customers:
We use the following shipping methods; all details will be shown during checkout:
•
Economy: Approx. 11-14 business days
•
Ground: Approx. 4-7 business days
•
Expedited: Approx. 2-4 business days
•
Next Day Air: Next Business day
•
Free Ground Shipping: Order over $500.00
We are not responsible for carrier transit time. All transit times are business days. UPS and Fedex do not deliver on weekends or Holidays. USPS will deliver on Saturday. Residents of Alaska, Hawaii, and Puerto Rico as well as PO Box and military customers must choose the Priority Mail option or contact us for a quote. Please use the shipping calculator for an accurate shipping quote.
International Customers:
Please contact us prompt to order. Chat below is a quick guideline for international shipping charges. For further questions please do not hesitate to contact us at support@us-tea.com.
Shipping Rates & Policies
It is of utmost importance to us that your Unique's Tea orders are shipped promptly and with care. Typically, orders placed by 12:00 Noon Central Standard Time will be shipped the same business day. Please refer to the following chart shows for shipping options and associated rates. FREE ground shipping for orders over $50.00 applies to orders shipping to one address within the Continental U.S. For orders with multiple ship-to addresses, a shipping fee of $4.75 will be applied per shipping address.
Expedited (Air) Shipping*
* Continental U.S. only
** Priority shipping rates cover all USA and the following: American Samoa (AS), Federated States of Micronesia (FM), Guam (GU), Northern Mariana Islands (MP), Palau (PM), Puerto Rico (PR), Virgin Islands (VI).
International Shipping Rates & Policies
1. International orders of tea only
International orders of tea only are shipped via International Air Parcel Post. All orders will be confirmed via e-mail.


2. International orders that include accessories and other non-tea items:
Since the exact shipping charge for these orders depends on many factors, such as weight, measure, contents etc., the shipping charges will be quoted via e-mail once the order was reviewed. Typically we will quote both Air and Surface shipping rates along with the approximate shipping time. We will not charge your credit card or ship your order unless we received an answer back from you, authorizing the charge.